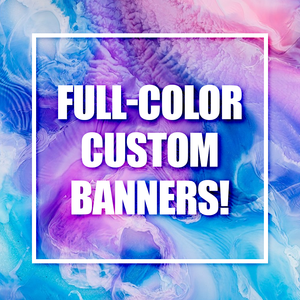 13 oz. Full Color Banner prints for your School, Business or Organization. Beautiful full color prints on weather resistant vinyl scrim banner material. Printed from your original artwork (See below for specifications and instructions) or add our professional design services to your cart.
Art Specifications: Please submit jpeg, png or pdf files in RGB to graphicinfusions@gmail.com . Files should be created full scale at 72 dpi, Half scale at 150 dpi or 1/4 scale at 300 dpi (for clarification please send email with any questions).
Professional Design Services: For use of our professional design services, please add "Professional Design Services" to your cart with the size banner you wish to purchase. Our team will design a proof to send for your approval within 48 - 72 hours (please provide viable email address).